VersaTool Main Screen
From Versatile Monkey Wiki
When first loading VersaTool you'll be taken to the main screen: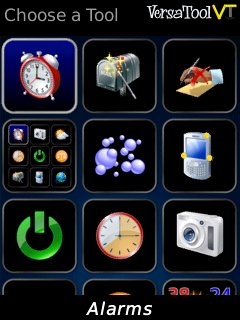 The main screen is one of the ways to get to VersaTool's applets. Clicking on an applet will take you into that applet.
I said 'one of the ways' to get into VersaTool because if you hit the menu you can add any of the applets to your Home Screen. See the Home Screen Bookmarks help page for more information.
Also in this menu is access to VersaTool's logs. Copying and pasting these logs into an email to support can help diagnose the issue if you're ever having a problem with VersaTool.