VersaTool Weather
From Versatile Monkey Wiki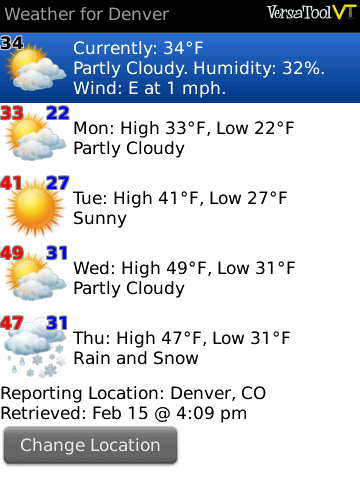 The Weather applet inside VersaTool allows you to keep track of the weather in any number of locations. Accessing the weather via the Weather applet in VersaTool's main screen is only one way, you can also create as many Home Screen Bookmarks pointing to as many locations as you'd like to keep track of. Each icon will update as the weather changes.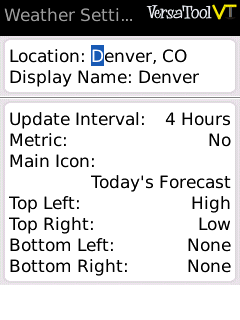 The only place the main Weather applet differs from any actions or home screen bookmarks you can configure is in the 'Change Location' screen. In the main applet you'll get the additional settings at the bottom that configure all weather icons and instances.
The icon that is displayed for a given weather action can either show 'Today's Forecast' or the 'Current Conditions', and the numbers that appear on the icon can be adjusted.