VersaTool Just Take the Picture
From Versatile Monkey Wiki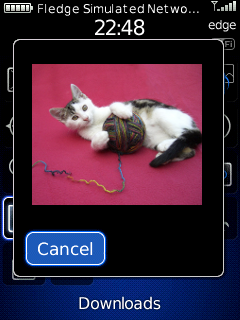 Just Take the Picture does exactly what it says. While it's displayed as an applet in VersaTool to show users it exists, it's actually meant to be used as an action assigned to a Really Convenient Key.
Why? Just Take the Picture allows, in most cases, to take a picture over the lock screen. This means that you don't have to go through the process of unlocking your phone to take a picture and possibly lose the opportunity to take the picture you wanted to take.
It will pop up and take a picture as soon as the camera will let it, so make sure you're already pointing at the object you want to capture before invoking it. You'll get about 1-2 seconds of viewfinder time to line up your shot and then it will display the resulting picture.